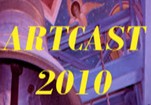 ARTCAST 2010
May 14 - 15, 2010
This two-day conference is intended to bring together academics the companies from Romania and from abroad for a discussion on artwork making and casting, in its technical, social and strategic aspects, with a special focus on artwork directions and applications in education and research. Its aim is to provide a forum for recent research and development on all aspects of the moulding and casting of artwork. We cordially invite your participation in this event with or without paper contribution.
Tags:
ARTCAST 2010
Views: 5836 Added: 13.03.2010 Updated: 13.03.2010
---
Organizer: University ???Dun??rea de Jos???
Country: Romania
City: Galati
Address: Galati
Contact person: Viorel Minzu
Phone: 0235311181
ARTCAST 2010 Romania