ARTCAST 2010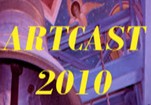 startDate:
May 14 - 15, 2010
This two-day conference is intended to bring together academics the companies from Romania and from abroad for a discussion on artwork making and casting, in its technical, social and strategic aspects, with a special focus on artwork directions and applications in education and research. Its aim is to provide a forum for recent research and development on all aspects of the moulding and casting of artwork. We cordially invite your participation in this event with or without paper contribution.
Event Web-site:
Views: 5877 Added: 13-03-2010 Updated: 13-03-2010
Tags:
ARTCAST 2010
---
When having questions on ARTCAST 2010, please send your inquury!
Organizer: University ???Dun??rea de Jos???
Country: Romania
Contact person: Viorel Minzu
Phone: 0235311181
ARTCAST 2010 Romania