Cast iron skull scrap for sale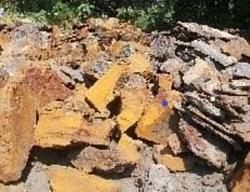 CAST IRON SKULL SCRAP
QUANTITY: 1000 Ton.
PRICE : USD260 CNF Mundra Port.
STUFFING : above 25ton.
TERMS OF SALE: CFR basis.
SHIPMENT: June/2018.
TERMS OF PAYMENT:100% on Loading BY TT or LC at Sight 100% Confirmed.
Inspection : By Third Party.
We look forward to working with you long term with honesty and transparency.

Our Minimum Order Requirement is 1x20ft Container Load.
Can you please a LOI or fill all the required details below so that we can provide you with our best price and further details on any Product that you are interested in. This also proves to us that you are a serious Buyer.
LOI & Irrevocable Purchase Order


Company/Importer:
CEO's Name:
Address: NO PO BOX:
Phone Number:
Cellular Phone:
Fax Number:
Email:
Country:
Destination – Port:
Shipping:
Delivery Period:
Type of Product:
Qualification of Product:
Quantity Required:
Documents & Guarantee:

Bank Information:


We the undersigned (Name of buyer or Importer) hereby state and represent that it is our corporate intention to purchase the commodity/Products (Name of Products) in the quantity and for the price as specified in the term and conditions as stated below. This representation in made with full corporate authority and responsibility of the above stated Buyer.

Date:

Buyer Full Name Signature & Company Sale
Tags:
Cast iron skull scrap for sale
Views: 19 Added: 31-05-2018 Updated: 31-05-2018
---
Country: Australia
City: Coomera
Zip: 4209
Company:
Address:
Contact person:
Phone:
Fax:
Mobile:
Please,
login
or get
registered
to contact
the Author via email or personal message!
Related to Cast iron skull scrap for sale