Home
>
Increase of steel manufacturers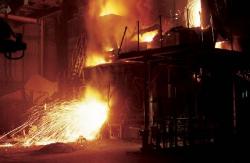 As a representative of analysis agency JPMorgan Michael Gambardella predicted, the demand on steel products would improve and costs of steel materials would grow, what might provoke further steel price advance. This consideration pushed Friday increase of steel producers' shares in Denver.
Additionally JPMorgan analyst made research on future prices of other three companies. He remarked that the spring might be a final point in stable prices increasing, as there are such factors of this situation, as insufficiently regulated supply, cost stress and multiplied demand on steel products.

Gambardella announced that he leveled up his shares prices for December 2010 of all three companies.

Ninety-one cents were rise to $48.96 at share prices of ArcelorMittal. Despite previous year top position of $48.28, their trades reached $49.41 some time ago. Estimated level up is $55 in contrast to previous $45.
Second company was United States Steel, which this year reached a price peak of $66.08, as opposed to previous year, when their range was $16.66-$61 Friday presented them with share level of $65.34, trading finish was 7.3 percent or up $4.43. Estimated level up is $75 in contrast to previous $55.

Similar situation is at AK Steel, which new yare reached a price peak of $25.92, beating last $24.40. $2.20 (9.3 percent) was increment to share price, what made up $25.77. Estimated level up is $34 in contrast to previous $29.

Gambardella noted that auto production and building decay influenced on steel manufacturers. This year they declared about surge of prices, especially, for hot-rolled sheets. Expected rise is aimed to be $580 ( more than $550) a ton and at February, in opposite to approximate November and December $500 a ton.

Serious benefits are expected for such input materials, as coking coal, iron ore and scrap material, he added. Beginning from mid-November there was 25 percent increase in prices at scrap material. Moreover, poor mill implements, frequent exportations and supply activity might provoke further 15 percent rise.

Similar to Michael Gambardella, analyst Luke Folta from agency Longbow Research forecasts this year price increase at input materials also.
Any copying and distributing the material of Global Metal Trade Portal
without active link is stricly prohibited !
Link to this news:
Increase of steel manufacturers
Copy & Paste This Code to your website:
---
Views: 3808 Added: 16-01-2010 Updated: 16-01-2010
Average Visitor Rating:
0.00 (out of 5)
Number of Ratings: 0 Votes
Increase of steel manufacturers