Home
>
metal works in Ukraine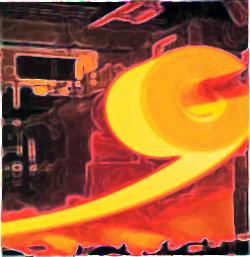 In H103 income from ferrous metal export rose 30,7%; from steel pipes – 1,8 times as much (compared to the same period in 2002). Thus, export is still offering good development prospects for the country, not worse then they are in Russia. So, last year exports of rolled production curtailed by 1.5%. The Ukrainian statistics is assuring that all the additional production output was consumed domestically. That is not a surprise in the view of Ukrainian construction and machine-building sectors were demanding more: within the eight months of 2003 their demand rose by 32,8% and 22%, correspondingly).
In 10 months last year metal works in Ukraine produced 24,4 m of iron (+7% to the same period in 2002); 30,5m t of steel (+8%); 26,4 m t rolled production (+8%). Ukraine's last year rate of growth outstripped that in Russia.
According to the Ukrainian State Statistics Committee, the country was importing flat roll with coating (12%) for manufacturers of metal roof tiles and shaped boarding; without coating (14.2%); alloyed steel roll (10.6%), long products (9.2%), reinforcement (6%).
But that obvious success cannot abduct our attention from the acuteness of the problem of "undernourishment" of the domestic metal market in Ukraine, which consumes not more than a quarter of the whole metal production in the country. Due to strengthening Euro, an export structure has recently started shifting to so-called dollar-zone countries (USA, India, Brazil, Thailand), and dollar imports are often much cheaper then euro or even rouble ones.
Any copying and distributing the material of Global Metal Trade Portal
without active link is stricly prohibited !
Link to this news:
metal works in Ukraine
Copy & Paste This Code to your website:
---
Views: 6067 Added: 20-09-2009 Updated: 20-09-2009
Average Visitor Rating:
0.00 (out of 5)
Number of Ratings: 0 Votes
metal works in Ukraine