Offering Used rails classified as scraps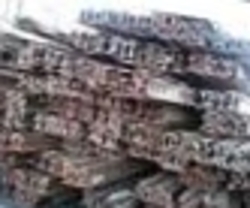 We are offering Used rails classified as scraps.
Origin: Nigeria
Manufacturer: Ukraine, Russia.
Quality – The commodities are free from intense chemical corrosive,  deleterious and dangerous materials, radiation and contamination, sealed gas  cylinders and any other sealed containers and any explosive materials,  bombs, fire arms and ammunitions, non-ferrous and non-metal materials, and  inflammable materials, pig iron and electrical motor, severe dirt, oil and  garbage. Purity: Dust and impurities are not more than 0.3% (point three) of total  weight.
Right to Ban or refuse to accept: The Buyer and/or Buyer's government and/  or the authorities of destination country has the right to ban and/or refuse  to accept the said commodities if it contains any banned material
DESCRIPTIONS AND SPECIFICATIONS:
Chemical Composition of the steel scrap:
Mn: 0.60 – 1.05; C: 0.54 – 0.82; Si: 0.18 - 0.12; S: 0.04
Max; P: 0.035
Max; As: 0.01% Max of Mass Share; AND Cr: Residual. Specification: Used Rail: R50 (51.67KG/Meter) – GOST 7173-55 R65 (64.72KG/Meter) – GOST 8161-75 Size & Weight: Length: 12M to 12.5 M; Width: 5.5 inches; Weight: 437.5Kg. No fishplates or steel pieces or bolts are attached to the used rails. All  rails are clean and straight. No pitting. Only atmospheric rust. No heavy  rust.  QUANTITY/LENGTH Used Rail: R50< (MT) or more (for shipping tolerance). R65> (MT) or more (for shipping tolerance). Total Quantity: One Hundred and Eighty Thousand Metric Tons of Used Rails  (180,000 Mts)
Shipment: Thirty Thousand Metric Tons (30,000 MT) X 6  PURCHASE PRICE Purchase price or unit price shall be USD 150 per metric ton. Incoterms: CIF basis to any safe world port (hereinafter called port of  discharge).
Tags:
Offering Used rails classified as scraps
Views: 431 Added: 07-11-2015 Updated: 07-11-2015
---
Country: Nigeria
City: ojota lagos
Zip: 23401
Company:
Address:
Contact person:
Phone:
Fax:
Mobile:
Please,
login
or get
registered
to contact
the Author via email or personal message!
Related to Offering Used rails classified as scraps