Pig iron required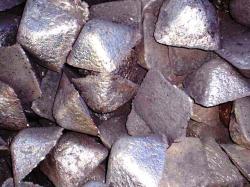 Our Company is one of the biggest Importers of Coke , Graphite etc and right now we are required PIG IRON.We deal in two types of Pig Iron - Foundry Grade Pig Iron (F.P.I) and Conversion Grade Pig Iron (C.P.I). Our source of buying / importing is Pakistan Steel Mills and Russia. Here below please note different specifications of Pig Iron which we want to import all over the year at very comparative price.
Contact us for your Pig Iron Offer at any time throughout the year.Also mention your specifications if any.please quote us the most competitive CNF/FOB cost.
Tags:
Pig iron required
Views: 2840 Added: 25-10-2011 Updated: 25-10-2011
---
Country: Pakistan
City: FAISALABAD
Zip: 38000
Company:
Address:
Contact person:
Phone:
Fax:
Mobile:
Please,
login
or get
registered
to contact
the Author via email or personal message!
Related to Pig iron required