Home
>
SAIL is intended to revise steel prices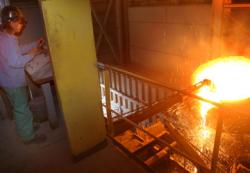 Nowadays, India is preoccupied with the situation about steel prices. Some domestic companies were seen to increase steel prices. These firms, such as SAIL and Tata Steel, possess captive reserves of iron ore and cocking coal.
After a rise of prices for flat and long products by Rs1,500 last week, State-run Steel Authority of India Ltd. (SAIL) have informed of possible decrease in prices for some of its products.
Among the theories explaining the boost was the one saying that the root is a growing input costs. At present, prices for iron ore are steadily kept at 100$, but last year they have fallen below 50$. However, the demand undergoes the increase as well.
But this theory was disproved by the experts of SAIL company. Their opinion was to consider market fundamentals as a leading factor for prices development instead of input costs.
For instance, flat steel products are used in automobile and consumer durables industries, so prices for them are formed by international trends. And nowadays it is well-known that international prices are rising.
In respect of prices for long steel products SAIL has informed that they are going to revise own policy and make some correction in the near future. These products commonly used in construction and infrastructure sectors.
Any copying and distributing the material of Global Metal Trade Portal
without active link is stricly prohibited !
Link to this news:
SAIL is intended to revise steel prices
Copy & Paste This Code to your website:
---
Views: 4468 Added: 14-02-2010 Updated: 14-02-2010
Average Visitor Rating:
0.00 (out of 5)
Number of Ratings: 0 Votes
SAIL is intended to revise steel prices