Home
>
Scrap Metal Hsm1 Hsm2 Best Price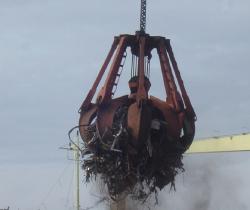 HMS 1&2 Scraps (80:20) available for sale in bulk quantities.

Steady and monthly supplies are guaranteed and assured.

For more details, do send us a serious inquiry.
Please include phone number and company email address. I will make every attempt to return your inquires as soon as possible.
We mainly supply HMS 1&2 -  Shipments are done in 20'' containers. FOB or CFR
Any copying and distributing the material of Global Metal Trade Portal
without active link is stricly prohibited !
Link to this news:
Scrap Metal Hsm1 Hsm2 Best Price
Copy & Paste This Code to your website:
---
Views: 2573 Added: 15-08-2013 Updated: 15-08-2013
Average Visitor Rating:
0.00 (out of 5)
Number of Ratings: 0 Votes
Scrap Metal Hsm1 Hsm2 Best Price