Sell Copper powder 99,999% Isotope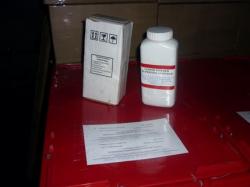 We are manufacturer and direct Seller from Russia proposes Copper Powder 99,999% on the following conditions:
Commodity: Copper Powder 99,999%
Quality of the Goods: Non-radioactive Copper in spherical powder form chemical purity grade is 99,999%, isotopic composition Cu63 - 69,09% Cu65 - 30,91% (+/ 0,05%)
Quality: IGAS Germany, GIREDMET- Russia, Moscow.
Delivery terms: EXW,DDU,CIF
Payment terms: non transferable LC or BG
Price: Great price depending on quantity ordered.
Tags:
Sell Copper powder 99,999% Isotope
Views: 3870 Added: 12-02-2012 Updated: 18-04-2013
---
Country: Russian Federation
City: Moscow
Company:
Address:
Contact person:
Phone:
Fax:
Mobile:
Please,
login
or get
registered
to contact
the Author via email or personal message!
Related to Sell Copper powder 99,999% Isotope