Selling lead ore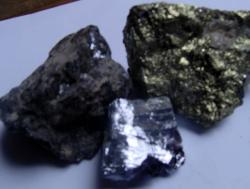 SUBJECT: PURCHASE AND SUPPLY: GOOD QUALITY LEAD ORE GALENA TO YOUR COMPANY FOR EXPORT ON REVOLVING BASIS,
This is to inform you that, Our Company is a trading agent for the largest zinc ore and lead galena producing area of Eastern Nigerian State in West Africa which has been in a small-scale mining business for the past years. We presently are capable of supplying the quantity of about 6000MT of zinc ore and about 2000MT of lead galena per month and we are selling at a very reasonable price. Willingness in principle based to enter into sales and purchase agreement with your company for a supply of good quality lead galena and Zinc Ore to your company for export on revolving basis.
Please find below, the detailed information required from us in order for a smooth take off, regarding this transaction between both companies:
(A)   PRORATE LIST OF SOLID MINERALS:
LEAD GALENA: 65%-85%
ZINC ORE: 65%
LEAD OXIDE: 65%
We are capable of producing LEAD GALENA of +85% of about 500 MT per week at the rate of One hundred and eighty five thousand Naira N185.000 while LEAD OXIDE is N155.000 150 to the tone of 500 MT per week and ZINC ORE in large quantity of about 12000 MT per Month at the rate of N50.000 FOB to be delivered to any warehouse within the Ebonyi State Nigeria, our commodities are locally mined in Ebonyi State Nigeria only.
(B)   APPEARANCE/COMPONENTS:
Size, mm
(D)   We are ready to enter into a Memorandum of Understanding (MOU) with you for a long term business, including partnership for mining, it will please us to meet you in person in Nigeria for a face to face conversation and mutual understand with each other.
We hereby request your good office to inform us what you want and forward your corporate letter of intent to us to enable us issue corporate Proforma Invoice to your company and also forward your detailed contact to us, We need a reliable buyer abroad who can buy the commodity and possibly go into partnership agreement with us, as to front us and also acquire the necessary modern mining equipments to improve our mining capacity and skills.
Tags:
Selling lead ore
Views: 863 Added: 09-08-2013 Updated: 09-08-2013
---
Country: Benin
City: Cotonou
Zip: 229
Company:
Address:
Contact person:
Phone:
Fax:
Mobile:
Please,
login
or get
registered
to contact
the Author via email or personal message!
Related to Selling lead ore