Home
>
Steam explosion at Beta Steel Corp.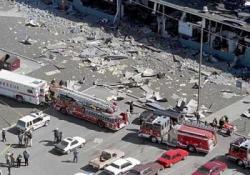 Beta Steel Corporation, located in Portage and specialized in the production and sale of hot-rolled coil, have become a subject of close attention of all newsiers. However, the reason is not really pleasant.
Thursday night at Beta Steel Corp. have occurred an incident which resulted to a death of one man and injury of four others. Now Indiana state officials are investigating the circumstances of the incident.
Authorities of the steel-producer report that about 7:15 p.m. happened a steam explosion in the melt shop facility at the electric arc furnace. The incident was so powerful that one of the workers, Michael Kies, 35, from Griffith died from blunt force trauma.
This occurrence is not the first at Beta Steel Corp. The previous one was taking place not so many time ago. In three months, November 14, slag eruption brought to an injury of eight workers. For luck everybody left alive, as opposed to a deplorable event in May 2005, when William Maffit, 45, has died when he was cleaning a furnace byproduct and material fell from the furnace on him.
But the biggest tragedy happened in 1996. Explosion of pressure tank took lives of three men and seven others were brought to the hospital with injuries. Excess pressure (almost twice what was foreseen) in the tank and leak, that had not been repaired appropriately, led to such consequences. Moreover, it was found out that the tank has foreign origin and never should have operated at the plant.
At the moment the fact that two explosions happening so close to each other arouse huge concerns.
The Indiana Occupational Safety and Health Administration (OSHA) has initiated an additional investigation at the site and addressed its request to Portage Mayor Olga Velazquez.
According to the preliminary information steam explosion was caused by excess water, leaked into a furnace. During the winter snow clings to metal and water often causes additional problems. This water usually is evaporated as steam. And in order the steam could escape without producing pressure increase the roof above the furnace is kept open.
Those ill-fated night roof was on the furnace, what have aggravated the situation, when the steam exploded.
At this time workers were trying to find out where is the source of the extra water gathering around the furnace. At the moment of the explosion they were standing above the furnace.
Nevertheless, the injuries of four workers are not life-threatening, but still are very serious. Two of them are having light wounding and were taken to Porter Hospital in Portage. Another was taken to Porter Hospital in Valparaiso, Ind., and the fourth was taken to the Methodist Hospitals in Gary, Ind.
"Beta Steel Corp. expresses its deepest regrets to the family of the deceased and to those who were injured," says the statement of Beta Steel Corp. authorities.
However, four children and a wife of Michael Kies have lost their father, who was a union member and was training to become a supervisor.
Portage Mayor Olga Velazquez hopes that investigation will help to arrange everything back to order and recover the reputation of the steel-producer.
Any copying and distributing the material of Global Metal Trade Portal
without active link is stricly prohibited !
Link to this news:
Steam explosion at Beta Steel Corp.
Copy & Paste This Code to your website:
---
Views: 7504 Added: 30-01-2010 Updated: 30-01-2010
Average Visitor Rating:
0.00 (out of 5)
Number of Ratings: 0 Votes
Steam explosion at Beta Steel Corp.