Tantalum semi-processed ore - 34% head grade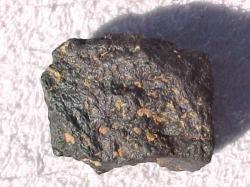 Our tantalum is extracted from one of our alluvial deposits. It is located in the Brasilian Amazon region.
Closest port is Santarem, Para State (650km)
Belem, Para State (2,000km) - main port.
The product has been extracted and passed through a classifier to remove all oversize material to attain an unprocessed concetrate of <30 mesh.
It need to be run through a magnetic seperator and hydrocyclone to achieve a higher purity concentrate.
Given that this particular alluvial site is 1) 18 months away from attaining a fulll processing permit, we are seeking a specific interested buyer who would purchase the material in bulk to further process in their own facilities.
Total resource sixe and details:
152,000 metric tonnes (measured via hand auger sampling program)
Total tantalum within the total ore body (by weight in Mt):
380 Mt (380,000 kg)
Total monthly supply capacity of bulk semi-processed product:
48 Mt (48,000kg)
Head grade of contained Ta205:
33-44%
Low U & Th
If of interest, please contact via telephone, email or whatsapp.
Tags:
Tantalum semi-processed ore - 34% head grade
Views: 21 Added: 04-06-2018 Updated: 04-06-2018
---
Country: Brazil
City: Santarem
Zip: 6850750
Company:
Address:
Contact person:
Phone:
Fax:
Mobile:
Please,
login
or get
registered
to contact
the Author via email or personal message!
Related to Tantalum semi-processed ore - 34% head grade