Home
>
The US faces the growth of scrap prices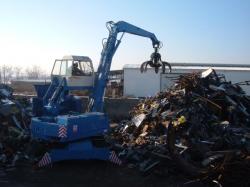 The close attention was kept on January prices for busheling and shredded scrap, announced by American Metal Market, lately. According to it, these products have suffered considerable increases and gone up from $45/ton to $380/ton and $345/ton, what means that busheling scrap rose by 13% and shredded scrap lifted 15% respectively. The brisk look at the tendencies of previous years reveals that today level is the highest since 2008 and it is not so far from the peak points when prices were $866 for busheling and $590 for shredded scrap.
Investigating the grounds that brought to above-stated consequences, the experts have pointed out the role of low scrap inventories at domestic mills. Nowadays sheet mini-mills become widespread due to their serviceable feature to restart operations in short terms. Such popularization creates competition to domestic mills. The growth of prices, provoked by speculative traders as well, have put many buyers in constricted state and made scrap purchases too complicated. In attempt to escape higher prices traders were trying to enlarge buying volumes.
The other factor, influencing scrap price formation, was weather conditions. Sever winter have forced shredders and export yards uplifts buying prices in order to enhance the flow, as far as the scrap was unavailable. The US domestic market has sharply felt the impact of bed weather, because it brought the weakening of dollar and shortening of scrap supply.
The tendencies in the Far East, known for the strengthening of the demand for steel, are also reflected in higher export prices.
So, the experts came to the single conclusion that the market will remain tight in February (except the stable beam market), accessibility of prime material will be constricted. In these terms higher prices for raw materials are unavoidable in the nearest future.
Any copying and distributing the material of Global Metal Trade Portal
without active link is stricly prohibited !
Link to this news:
The US faces the growth of scrap prices
Copy & Paste This Code to your website:
---
Views: 4654 Added: 19-02-2010 Updated: 19-02-2010
Average Visitor Rating:
0.00 (out of 5)
Number of Ratings: 0 Votes
The US faces the growth of scrap prices