Home
>
Trends, problems and prospects in Turkish steel industry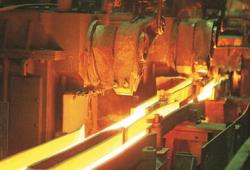 Turkey, being one of the major participants in the international steel market, has lots of possibilities to strengthen own positions, due to the stability of the industry and convenient geographical location.
However, the industry needs to overcome a difficulty with a biased structure. The problem consists in quite uneven distribution of flat and long products manufacturing, where the biggest volumes belong to long products (83%), while the demand is equal for both products. That makes the producers to export significant part of long products and import flat ones.
It is obviously seen that flat products accounted for only 15% of production volumes. Consumption, in turn, possesses 9% increase in 2007.
From the other side Turkish iron and steel sector also suffers from a problem of high finance and energy costs.
As for the trade tendencies, it should be indicated that foreign trade is of great importance for the Turkish steel industry. For instance, exports in 2007 amounted to $8.4 billion and imports $16.2 billion. This means that the import dependency rate has increased over the last six years. About 55% of domestic demand is met by imports due to the high share of long products.
Among the imported by Turkey in large amounts products must be noted the following: scrap iron, anthracite (hard coal) and other raw materials that go into the production of steel.
Thereby, Turkish steelmaking sector faces a range of prospects nowadays:
1) It is evidently that the iron and steel industry is going to intensify, what is enabled by several factors: a) steel consumption by Turkey (330 kg a year at per capita), what is about half of that in the EU and developed countries; b) the delay of infrastructure and housing investments due to economic crises impact; c) economic indicators recovery (since 2002) is supposed to reflect in an increase of the investments, stimulating domestic steel consumption.
2) Erdemir plant, only flat producer with 3 million tons of crude steel capacity, have decided to transform its Isdemir plant into flat production by means of several modernization measures and investments worth $1.9 billion. Such activities are purposed to increase production volumes (in 2009 it was 10 million tons) and streamline the quantities of flat and long products, where imports of flat products are expected to go extremely down in the nearest future.
3) In order to make value-added stronger, the industry have started to change priorities: from raw billet steel to finished products like reinforcing bars.
4) Other areas which are going to strengthen steel consumption in the long term are automotive and home appliances sectors which possess vast domestic markets and significant potential in export markets. According to the data from the State Planning Organization, annual average increase in steel consumption is to constitute between 6-7% parallel with the forecast of 5% GDP growth.
5) Export activities of Turkish steel producers form a significant part in the economy. It can be denied that Turkey is one of the best suppliers for the restructuring investments in Iraq and Middle East. So, it is necessary to maintain the competitiveness in the foreign markets.
Currently, the industry is influenced by foreign investments, entering it. The world's largest steel producer ArcelorMittal purchased 51% of Turkish construction steel producer Rozak in October 2007. Moreover, ArcelorMittal is intended build a $500 million new hot strip mill in Gemlik with Turkey's leading steel producer Borusan Holding. In such a way, the company aims to double own sales and expand to countries near the Mediterranean and Caspian Sea. ArcelorMittal have been investing in Turkey for 15 years because they believe that Turkey is a growth platform to other markets.
Any copying and distributing the material of Global Metal Trade Portal
without active link is stricly prohibited !
Link to this news:
Trends, problems and prospects in Turkish steel industry
Copy & Paste This Code to your website:
---
Views: 6063 Added: 23-03-2010 Updated: 23-03-2010
Average Visitor Rating:
0.00 (out of 5)
Number of Ratings: 0 Votes
Trends, problems and prospects in Turkish steel industry