Used Rails R50-R65 on CIF terms for sale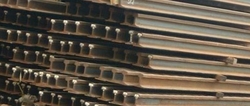 We can offer Used Rails R50-R65
Sales and purchases will be made on the basis of international procedures.
PRODUCT: Used Rail R50 – R65
Specification Used Rail as: Used Rail R50 – R65 R50 (51.67KG/METER) GOST 7173-55 R65 (64.72KG/METER) GOST 8161-75 Chemical composition of the steel scrap is of international standard as follows:
MN: 0.60 1.05;
C: 0.54 O.82;
SI: 0.18 – 0.12;
S: 0.04Max;
P: 0.035 Max;
QUANTITY: MOQ = 30,000 MT X 12 (+/- 5%), larger quantities available
CONTRACT: 12 Months
PRICE: USD 260.00/MT CIF/CFR/CIP U. S. Seaport (based on quantity stated per shipment/month) for 30,000 MT (+/-5%) x 12 months/shipments
DELIVERY: CIF AWSP
LENGTH: UNCUT or CUT
ORIGIN: Western/ Central/Eastern Europe
PACKAGING: Bulk shipment Partial Shipment not allowed
INSPECTION: SGS or CCIC or Similar;
TYPES OF CONTRACTS OFFERED:
All orders must be accompanied by a completed Letter of Intent (LOI).
Tags:
Used Rails R50-R65 on CIF terms for sale
Views: 52 Added: 30-04-2018 Updated: 30-04-2018
---
Country: Nigeria
City: Lagos
Zip: 234
Company:
Address:
Contact person:
Phone:
Fax:
Mobile:
Please,
login
or get
registered
to contact
the Author via email or personal message!
Related to Used Rails R50-R65 on CIF terms for sale