Vibrating Feeder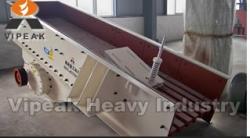 The Vibrating Feeder (Vibratory feeder) is used to transfer the large size materials and granular materials from Silo to receiving device uniformly, periodically and continuously in the production flow and to feed materials into the crusher continuously and uniformly also to screen the materials in the sandstone production line. The Vibrating Feeder is widely used to match the crushing and sieving equipments in many industries including metallurgy, coal mine, mineral dressing, building material, chemical, grinding, etc.
Working Principle of Vibrating Feeder:
There are two eccentric shafts rotating at high speed at the same time from opposite directions, thus the strong centrifugal force is formed. The component forces of centrifugal force along the vibrating direction will always overlap each other, then counteract with that of vertical force from vibrating direction, then exciting force along single direction is formed to drive the feeder vibrate along straight line. When materials are fed into the feeder, they may be thrown up and move like Para curve, then fall down. The materials will move forward on the slope surface of the feeder.
Tags:
Vibrating Feeder
Views: 2864 Added: 20-06-2011 Updated: 20-06-2011
---
Country: China
City: zhengzhou
Zip: 450007
Company:
Address:
Contact person:
Phone:
Fax:
Mobile:
Please,
login
or get
registered
to contact
the Author via email or personal message!
Related to Vibrating Feeder