Virgin Silver Liquid Mercury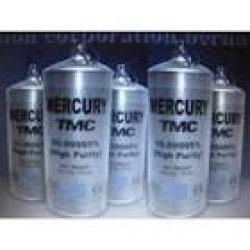 Specification

Prime Virgin Silver liquid Mercury of 99.999% purity.
SPECIFICATION
- Virgin Mercury purity = 99.99% by wt min.
- Free from heavy metals
- Packing iron cylinder ( 34.5)kg net weight
- Physical State: Liquid
- Appearance: silver
- Odor: odorless
- PH: Not available.
- Vapor Pressure: 0.002 mm Hg @ 25C
- Vapor Density: 7.0
- Evaporation Rate: Not available.
- Viscosity: 15.5 mP @ 25 dig C
- Boiling Point: 356.72 dig C
- Freezing/Melting Point:-38.87 dig C
- Decomposition Temperature: Not available.
- Solubility: Insoluble.
- Specific Gravity/Density: 13.59 (water=1)
- Molecular Formula :Hg
- Molecular Weight: 200.59
packed in 34.5 kg flasks
High quality of products. - Purity of available liquid mercury is at least 99%. - Giving guarantee of non-presence of any impurity. - Meeting customers demands.- Delivery guaranteed.
We do ship legally worldwide without any custom barriers. Please do leave us a message to place your order with your full information details and we shall get back to you.
Tags:
Virgin Silver Liquid Mercury
Views: 1980 Added: 29-06-2012 Updated: 29-06-2012
---
Country: Cameroon
City: DOUALA
Zip: 237
Company:
Address:
Contact person:
Phone:
Fax:
Mobile:
Please,
login
or get
registered
to contact
the Author via email or personal message!
Related to Virgin Silver Liquid Mercury