Aluminium Alloy Ingot
Aluminium Alloy Ingot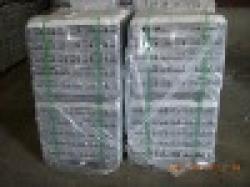 Alloy Or Not: Is Alloy Secondary Or Not: Is Secondary
Aluminium is one of the most important material and being most exploitation in many application in light metal material
General Knowledge about Aluminium Aluminium is one of the most important material and being most exploitation in many application in light metal material group due to the variety of its good properties. With low density, lightweight and having high efficientcy compared to weight, aluminium has been selected to be used as material for the spare parts manufacturing of airplane, rocket, ballistic missile and automobile accessories. Aluminium is used for said purposes in order to reduce weight of car and then to save more fuel. It has high flexibility and easy to reform with any kind of process and without risk of cracking. Moreover, aluminium has low metting point, which is easy to be melted, and high fluidity. Conductivity of aluminium is 64. 94 % IACS which is not too high. But due to its lightweight , also be used as a conductor in case the weight is significantly considered. As aluminium is proved as a non- hazardous metal to humans hygienics and as its conductivity is quite low, aluminium is also used as a good material in making all kinds of kitchenware including food wrapper. Since the surface of pure aluminium has high reflectibility index , it is widely used as a reflection of camera flash, the reflecting in electrical lamp and headlamp of the car. Aluminium has a high rust and corrosion resistance in general working condition, but it can easily be corroded by high concentration of acid and alkali. Aluminium can be found in market with none of difficulty at the price, which is not too high. Besides, aluminium is widely used for home decoration including almost every kind of furniture. Importantly, aluminium has been continuously developed and improved endlessly Tags:
Aluminium Alloy Ingot
Views: 486 Added: 03-09-2009 Updated: 03-09-2009
---
Country: Thailand
City:
Zip: 20160
Company:
Address:
Contact person:
Phone:
Fax:
Mobile:
Please,
login
or get
registered
to contact
the Author via email or personal message!
Related to Aluminium Alloy Ingot