aluminium alloy ingot
aluminium alloy ingot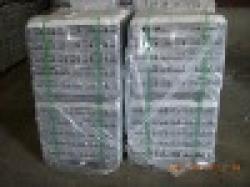 Alloy Or Not: Is Alloy Secondary Or Not: Non- secondary Chemical Composition: SI CU MG ZN MN FE TI NI P .
Weight: 6. 5KG Al (Min) : 87- 90% Place of Origin: Zhejiang China (Mainland)
Brand Name: HAOTAI Model Number: ADC- 10
Packaging & Delivery
Packaging Detail : packed with plastic/ iron belt. with blank transparent film , APP. 800- 900kg/ bundle, strapped by plastic / steel band, withou wooden pallet, 18layers including foot ingot, , also we can provide double stacked bundles as ur request
Delivery Detail 1- 7DAY
recycling aluminium ingot.
good price, high quality.
large production.
SGS and ROHS certification. 10
our factroy production 300mt daliy. we make GB JIS AA DIN ECT STANDARD. GB: ZL101 102 104 107 108 109 111 112JIS: AC2B AC3A AC4B AC8A AC9A ADC1 ADC3 ADC6 ADC10 ADC12 ADC14. AA: A356. 1 A360 A360. 1 A380 A380. 1 A383. 1 A413. 1DIN: AlSiCu3 AlSi12Cu AlSi7Mg AlSi10Mg AlSi6Cu4also, we can prcess according client's requst. now our mainmark is taiwan, and Japan , KOREA . SOUTH- EAST ASIA, AND SOUTH ASIA LIKE TOYOTA, AND MISHUBISHI ECT. WELCOME TO CONTACT. ADC- 12ZAC2B AC3A AC4B AC8A AC9A ADC- 1 ADC- 3 ADC- 6 ADC- 10 ADC- 10Z ADC- 12 ADC- 12Z ADC- 14 . DUE TO MANY GRADE , PLS FELL FREE CONTACT US IF U WANT TO KNOW MORE SPECIFICATION. Tags:
aluminium alloy ingot
Views: 474 Added: 11-01-2009 Updated: 11-01-2009
---
Country: China (Mainland)
City: Ningbo
Company:
Address:
Contact person:
Phone:
Fax:
Mobile:
Please,
login
or get
registered
to contact
the Author via email or personal message!
Related to aluminium alloy ingot