Aluminium Alloy ingots for sale
Aluminium Alloy ingots for sale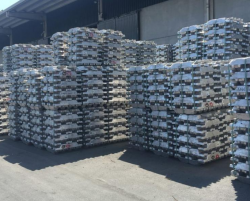 We can just produce Aluminium Alloy ingot such as:
UBC 95-98%,ADC12, LM24, LM6, 6061, 6063, HD4, HD2,AC2B,AC4CH,AC4B, etc. or can be produced as per your specifications.
Kindly let me know Which type and grade of Aluminium ingot you are looking for?
Kindly send me specification.
Payment term: 100% L/C at sight.
Yard visit: very welcome and highly recommended.
Feel free to contact me if you have concerns.
Tags:
Aluminium Alloy ingots for sale
Views: 126 Added: 01-03-2019 Updated: 01-03-2019
---
Country: Pakistan
City: Lahore Cantt
Zip: 54000
Company:
Address:
Contact person:
Phone:
Fax:
Mobile:
Please,
login
or get
registered
to contact
the Author via email or personal message!
Related to Aluminium Alloy ingots for sale