Aluminium Alloy Ingots
Aluminium Alloy Ingots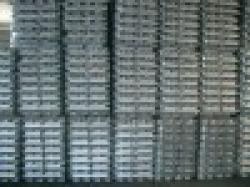 Alloy Or Not: Is Alloy Place of Origin: Haryana India Brand Name: CMR
Shape: Ingot Technique: Cast Application: Co mm on Automotive Alloys
We are major suuplier of Aluminium Alloy in India.
Dear Sir, We would like to introduce ourself as one of the major producer of Aluminium & Zinc Alloys in India. We have employed the best available technology in the world today for manufacture of Aluminium Alloys and Zinc Alloys. The plant includes Shredder for sizing and segregation of scrap, Decoater for cleaning the scrap before charging into Furnaces and Hot Metal Circulation Pumps for reducing the oxidation and maintaining homogeneity. The entire plant has been imported from Europe. It has the capacity of more than 50000 MT Aluminium Alloys and 10000 MT of Zinc Alloys per annum. We are following complete Quality Control procedures to ensure the highest quality of our products & are already ISO/ TS 16949: 2002. We are already supplying our product to all the major customers like HMSI, YMIL, Sunbeam Auto, Rockman Industries, Rico Auto, Suzuki Powertrain, Sandhar, Minda etc. We request you to kindly forward us your current requirement of different alloys in order to enable us to send you the quotation. Tags:
Aluminium Alloy Ingots
Views: 1073 Added: 08-08-2009 Updated: 08-08-2009
---
Country: India
City: Faridabad
Zip: 121102
Company:
Address:
Contact person:
Phone:
Fax:
Mobile:
Please,
login
or get
registered
to contact
the Author via email or personal message!
Related to Aluminium Alloy Ingots