Aluminum Ingot 99.7-99.99% on CIF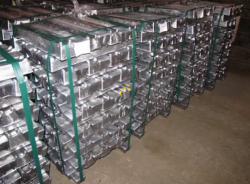 We offer Aluminum Ingot 99.7 99.99 High Quality
PRICE: $1500/MT CIF, $1300 USD/MT FOBDrained Lead-Acid Battery Scrap. Procedures are as follow:
1. Seller sends Buyer FCO with price, procedures and terms
2. Buyer sends ICPO with full banking details and Company registration/Passport copy
3. Seller issues Draft contract open for amendment if any, Buyer sign and return back.
4. Seller Legalizes the Draft contract, and send the final approved contract to Buyer via Secured Email service along with PPOP which include: A. Company Registration's Copy B. Certificate of Origin C. Statement of Product Availability. D. Commitment to supply E. Export License F. Product certificate of origin
5. After confirmation of PPOP by buyer. Both Buyer and Seller sign charter party agreement with the seller nominated shipping company and buyer make 50% payment of shipment value via MT103 TT.
6. Seller submits all documentation stating buyer as legal title holder and owner of allocation to the shipping company and also Issue to the buyer CERTIFICATE OF OWNER SHIP
7. Buyer's confirm and issue payment instrument DLC MT 700 through swift for the first total lift able trial shipment, within 5 working days, seller transfer title approved by the ministry of energy to identify the buyer's company name as the beneficiary owner of the product allocation.
8. Seller issues all Proof of Product including the SGS based on international analytical report/BILL OF LADING to buyers through secured E-mail
9. In accordance to instrument presented by buyer's bank, Seller's Bank replied with 2%PB to activate the letter of credit issued by the Buyers Bank.
10. The delivery commences as per the Schedule program in the contract. Inspection by SGS for Quantity and Quality pay by the seller at the port during loading and send to the buyer including all the necessary shipping documents via secure E-mail and Courier.
11. Product is shipped to the destination using CIF terms. After successful arrival at destination port inspection and testing of product through SGS or CIQ or equivalent at the Buyer's expense, Within 5 banking days of vessel arrival at buyer discharge port, buyer release the full payment of product.
12. Seller and Buyer pay for all their intermediaries as per NCNDA and IMFPA.
NOTE: if this transaction terms is ok with you, please send LOI.
Tags:
Aluminum Ingot 99.7-99.99% on CIF
Views: 128 Added: 20-04-2019 Updated: 20-04-2019
---
Country: Ghana
City: Accra
Zip: 00233
Company:
Address:
Contact person:
Phone:
Fax:
Mobile:
Please,
login
or get
registered
to contact
the Author via email or personal message!
Related to Aluminum Ingot 99.7-99.99% on CIF