Aluminum Ingots A7
Aluminum Ingots A7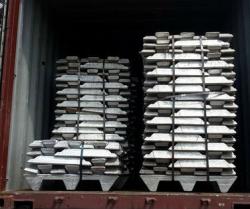 Pure Aluminum Ingot 99.7%
Chemical Composition: al
Weight: 20/25kg
Appearance: silvery white
Aluminum ingot for remelting is produced by molten salt electrolysis method using alumina and cryolite. Products meet the national standard GB/T1196-2002. The surface of ingot is clean and smooth.
Tags:
Aluminum Ingots A7
Views: 73 Added: 27-09-2019 Updated: 27-09-2019
---
Country: United States
City: Brooklyn
Company:
Address:
Contact person:
Phone:
Fax:
Mobile:
Please,
login
or get
registered
to contact
the Author via email or personal message!
Related to Aluminum Ingots A7