Automatic complex for manufacturing of spiral-folding pipes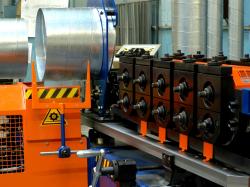 Automatic complex for manufacturing of spiral-folding pipes

The automatic complex is intended for manufacturing of the big assortment of spiral-folding pipes used in conditioning plants of high pressure and in the building industry. It is equipped with continuously rated electric drive and the patented mechanism of the lock seaming. The applied technologies allow to receive pipes in diameter from 100 to 1600 mm. with the smooth and intact surface. Using the replaceable tool, the complex is easy for recustomizing to release of pipes with the lock on internal or outer side. On this equipment we can use various materials such as stainless and galvanized steel, steel with polymeric covering, aluminum and copper. The complex can be maintained in manual control mode (manufacture speed of a pipe can constantly be regulated; pipe sawing up occurs at any time at various length) or in an automatic mode (the machine tool works on the installed maximum speed, producing pipes of the fixed length; at any moment to pass to manual control mode). Combining excellent industrial characteristics with simplicity of management, high reliability and the favourable price, the automatic complex represents the ideal decision for business development.
Application of spiral-folding pipes:
airlines
refuse chutes
calidusts and steam conduits
decks
filter elements cages
granaries
other construction elements.
Tags:
Automatic complex for manufacturing of spiral-folding pipes
Views: 1075 Added: 04-04-2013 Updated: 04-04-2013
---
Country: Russian Federation
City: Smolensk
Zip: 214030
Company:
Address:
Contact person:
Phone:
Fax:
Mobile:
Please,
login
or get
registered
to contact
the Author via email or personal message!
Related to Automatic complex for manufacturing of spiral-folding pipes