Automatic lines of cold roll forming
Automatic lines of cold roll forming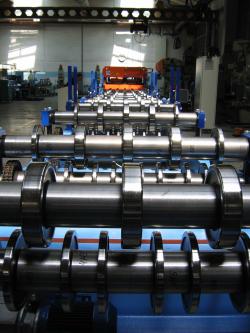 Automatic lines of cold roll forming. Depending on characteristics of processed metal and the requirements to the production our company projects and makes the equipment approaching for each customer. This equipment allows to make various kinds of profiles:
Building and reinforcing profiles
Thermoprofiles
Professional flooring and metal tile
Siding and panels
Racks and regiments for trading and warehouse racks
Case products and etc.

We can make production according to the sketch of the customer. Modular configuration of lines gives the chance to build in drives of the modular type in addition, which application provides necessary capacity for manufacturing of a profile of a difficult configuration, and it allows to raise a thickness of used component parts. For transition from manufacture of one type of a bent profile it is enough to replace the replaceable tool representing section for profiling from 4 or 5 cages with another, mounted on the general basis. It reduces the time of the line readjustment, so it allows to increase the volume of the production.
Tags:
Automatic lines of cold roll forming
Views: 1321 Added: 04-04-2013 Updated: 04-04-2013
---
Country: Russian Federation
City: Smolensk
Zip: 214030
Company:
Address:
Contact person:
Phone:
Fax:
Mobile:
Please,
login
or get
registered
to contact
the Author via email or personal message!
Related to Automatic lines of cold roll forming