Barium Sulfate (Barite) Ore
Barium Sulfate (Barite) Ore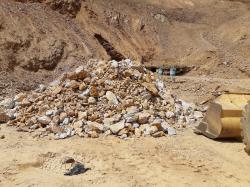 We are direct owner of Barite (Barium Sulfate) ore in Iran. We are able to export barite ore lumps with the best quality, purity and density as your rquirement in range of 3.8 to 4.5 g/cm3.
The main use of barite is as weightening agent in drilling fluids. We are able to supply barite ore as API 13A standard with density minimum 4.2 g/cm3 and Calcium ion lower than 250 ppm.
Also color of our barite is white that is a rare ore.
Please call us for any more information.
Tags:
Barium Sulfate (Barite) Ore
Views: 26 Added: 17-08-2019 Updated: 18-08-2019
---
Country: Iran
City: Tehran
Company:
Address:
Contact person:
Phone:
Fax:
Mobile:
Please,
login
or get
registered
to contact
the Author via email or personal message!
Related to Barium Sulfate (Barite) Ore