Bauxite ore directly from mine
Bauxite ore directly from mine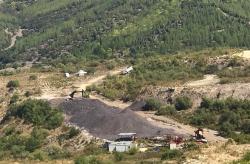 Offering Bauxite ore directly from mine. Our production capacity is between 30.000-40.000 tons per month. 60.000 tons of product is ready in stock, AL2O3 between R.80-% 54.80. This stock Bodrum Gulluk Port FOB price is 35 dolar Per Ton.
Tags:
Bauxite ore directly from mine
Views: 44 Added: 21-10-2019 Updated: 21-10-2019
---
Country: Turkey
City: ISTANBUL
Company:
Address:
Contact person:
Phone:
Fax:
Mobile:
Please,
login
or get
registered
to contact
the Author via email or personal message!
Related to Bauxite ore directly from mine