Brand New Rails At Interesting Price Rate
Brand New Rails At Interesting Price Rate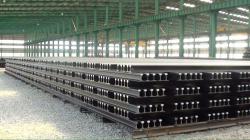 For Sale: Steel Rails
Target Price: 350$ (FOB)
Supply Ability: 1M Tonnes/Month
These rails have never been used and are brand new, you can clearly it on the picture.
For more details about this product, contact us.
Only for serious buyers.
Tags:
Brand New Rails At Interesting Price Rate
Views: 33 Added: 16-08-2019 Updated: 16-08-2019
---
Country: Belgium
City: Sint-Niklaas
Zip: 9100
Company:
Address:
Contact person:
Phone:
Fax:
Mobile:
Please,
login
or get
registered
to contact
the Author via email or personal message!
Related to Brand New Rails At Interesting Price Rate