Brass Parts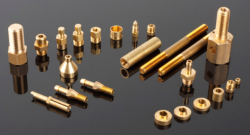 We are manufacturer of all types of brass parts like brass fastener, brass banjo tee, brass banjo bolt, brass hydraulic parts, brass pipe fitting parts, union tee, elbow female, brass hose parts, brass female strainer with plug, forging plug, brass pneumatic parts, brass fasteners, brass neutral links etc.
We also accept the drawing of the customer and according to that drawing, we developed their product. We are making and we can make any damn parts from drawing or sample.
We manufacture brass parts in sectors such as electrical parts, sanitary parts, pneumatic parts, lock parts, electronic parts, fasteners, lpg parts, transformer parts, plastic moulding inserts, engineering parts, hose fittings, auto parts, precision brass parts / components as per drawing & sample specifications.
Tags:
Brass Parts
Views: 300 Added: 14-07-2017 Updated: 14-07-2017
---
Country: India
City: rajkot
Zip: 360004
Company:
Address:
Contact person:
Phone:
Fax:
Mobile:
Please,
login
or get
registered
to contact
the Author via email or personal message!
Related to Brass Parts