Buying Copper millberry scrap 99,9% 2,000 mt/m CIF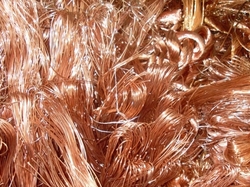 Commodity: Copper mulberry wire scrap
Specification: 99.9% Purity
Quantity: 2000 MT per Month for 11 months after successful a trial shipment of 1000 MT in the first month.
Contract period: 1+11 months
Target price: Three Thousand Four Hundred Fifty USD ($ 3,450.00 USD) per MT CIF Chennai, India / Any safe port in India (Note that we add 15% to price is our consulting fees, for more extra price 50% to seller and 50% to New Door Trading S.P.C).
Inspection: SGS or CCIC or other qualified inspection agency at buyer's port.
Destination port: any safe port in India
Payment terms: SBLC for 100% value from a port by T.T. (MT-103) after inspection at buyer's port. (note that first SBLC for 1000 MT only is trial shipment.
Delivery: trial / first shipment within 45 days from the date of issuing SBLC, & subsequently every month.
Tags:
Buying Copper millberry scrap 99,9% 2,000 mt/m CIF
Views: 117 Added: 20-04-2019 Updated: 20-04-2019
---
Country: Bahrain
City: Manama
Zip: 408
Company:
Address:
Contact person:
Phone:
Fax:
Mobile:
Please,
login
or get
registered
to contact
the Author via email or personal message!
Related to Buying Copper millberry scrap 99,9% 2,000 mt/m CIF