Copper 98-99,999%, powder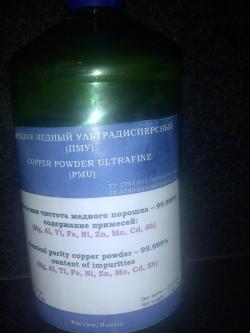 Copper is one of the most important elements. It is a
reddish metal that is a malleable and ductile with a bright
metallic luster. Copper is a good conductor of heat and electricity
(second only to silver in electrical conductivity).
Because of its malleability it is readily fashioned into sheets, wire and tubing.

Chemical Name: Cu
a) From 98% to 99.999%
b) Electrolytic copper powder
Physical Properties:
Powder, nano powder, shot, turnings, slug, single crystal, foil, discs, sputtering targets, plate, gauze, wire, rod, & tubing
Typical Applications:
Common uses include but are not limited to, automotive, hardware, building material, electrical material, fasteners, industrial, marine material, ordnance, plumbing. It is also a common ingredient in compounds, coin currency and in wires.
Packaging:
Jars, pails, drums, multiply paper bags, bulk bags and fiberboard containers. For further information on packaging options contact us
Specifications:
Atomic Number 63.546
Hazmat Status: Flammable solid
Solubility In Water: Insoluble
ICSC Number: 0240
Melting Point (°C): 1083
Boiling Point (°C): 2595
Vapor Pressure: 1MM@1628°c
Appearance & Color: Reddish lustrous metal
Specific Gravity: 8.94
Classification:
Copper Metal, Copper Powder & Copper Granules TSCA (SARA Title III)
Status: Listed.
Copper Metal, Copper Powder & Copper Granules CAS Number: CAS# 7440-50-8
CDC/NIOSH International Chemical Safety Card- Copper (Cu) Powder
Copper Metal, Copper Powder & Copper Granules UN Number: 3089
Tags:
Copper 98-99,999%, powder
Views: 122 Added: 27-05-2018 Updated: 27-05-2018
---
Country: United States
City: california
Company:
Address:
Contact person:
Phone:
Fax:
Mobile:
Please,
login
or get
registered
to contact
the Author via email or personal message!
Related to Copper 98-99,999%, powder