Copper cable scraps are of interest CFR
Copper cable scraps are of interest CFR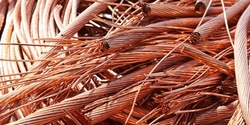 We purchase jelly copper cable scraps, insulated copper wire/cable scraps. Please contact to us for various photos, recovery rate of Cu each, price by CFR Busan port, Korea, payment term, quantity per month for a long term, loading port, origin if you can supply in the future. If you have more questions or inquiries please contact us anytime.
Tags:
Copper cable scraps are of interest CFR
Views: 68 Added: 02-06-2019 Updated: 02-06-2019
---
Country: Austria
City: Eisenstadt
Zip: 7000
Company:
Address:
Contact person:
Phone:
Fax:
Mobile:
Please,
login
or get
registered
to contact
the Author via email or personal message!
Related to Copper cable scraps are of interest CFR