Copper Cathodes 99,9 purity, 125kg each, 20MT min, CIF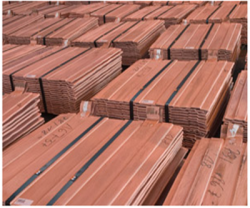 Commodity: Copper Cathodes (Non LME Registered)
Purity & Specification: 99.99%
Product: Copper Cathodes Grade A (Electrolytic Copper Grade)
Standard Cu Cathode-1, purity 99.99% (rejection below 99.95%)
Dimension: 914m x 914mm x 12 mm
Weight of each sheet: 125kgs (+/- 1%)
Net weight of each pallet: 2mts (+/- 1%)
Min. weight in each container: 20mts approx.
Gross weight of each container: 22.20mts Approx.
Packing: palletized banded by aluminum bands
Quantity: 500 Metric Tons Trial (6,000Mt- 10,000 MT X 12 Months,
(Contractual Supply, with rollover option))
Country of Origin: DR of Congo
Loading Port: Dar es Salaam - Tanzania
Port of Destination: AWSP
CIF Price: 14% Discount LME Price
Payment: DLC,
SBLC; T/T after inspection at port of destination.
Tags:
Copper Cathodes 99,9 purity, 125kg each, 20MT min, CIF
Views: 72 Added: 10-07-2018 Updated: 10-07-2018
---
Country: Singapore
City: Singapore
Zip: 590011
Company:
Address:
Contact person:
Phone:
Fax:
Mobile:
Please,
login
or get
registered
to contact
the Author via email or personal message!
Related to Copper Cathodes 99,9 purity, 125kg each, 20MT min, CIF