Copper Cathodes and Copper Millberry Supplier
Copper Cathodes and Copper Millberry Supplier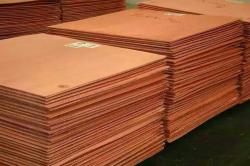 Commodity: COPPER CATHODES
Supplier: Export company, registered in Zambia/ South Africa and Tanzania according to law from owner / producer in Congo
Product: Copper Cathode Sheets, Grade A (Electrolytic Copper Grade A)
Purity : 99.99%, Conforming to the LME
Dimension: 914mm x 914mm x 12mm approx. and 36" x 36" x 0.5
Packaging: In aluminum band Bundles Stuffed freely into 20Mts FCL (Full Container Load) at Port of Loading Durban South Africa or DSM (Dares Salaam), Tanzania
Country of Origin: Democratic Republic of Congo
Port of Loading: Durban South Africa / Dares Salaam, Tanzania
Port of Destination: To be designed by the Buyer
Quantity: 1000MTs First shipment and following 2000MT x 12Months contractual supply with possible extension to 2 Years
Product inspection: Alex Stewart, SGS from producer factory, additional in Port of Loading. The buyer shall have been titled to technically inspection the goods sold plus full official export documents accompanying the goods, at port in Dares Salaam / Durban, before the Goods are loaded on board ready for shipping.
Contract Price: USD 4,800 PERMIT,CIF Terms fixed on the date of contract signing
Payment: The Buyer will pay the commitment fees in value of 20% from common Invoice after viewing the goods at the seller's Stock Yard/ warehouse in Zambia which includes Port charges, storage, handling, stuffing charges, warfare & demurrage charges, custom sealing fee and transport from relocation of the goods to the port of loading or buyer appointed warehouses and containers from stuffing are at export bay . The final payment of 80% will be done at the final buyer's destination after final inspection report . The amount committed by the Buyer will be deducted from Seller's final invoice
Retention of Title: The seller shall retain the full Ownership clear title of his goods until after the full Change of Ownership is effect and payment of Funds is done to a nominated account of the seller's choice.
Do not hesitate to contact us for further concerns and questions.
Tags:
Copper Cathodes and Copper Millberry Supplier
Views: 46 Added: 30-08-2019 Updated: 30-08-2019
---
Country: United States
City: Bergenfield
Zip: 07621
Company:
Address:
Contact person:
Phone:
Fax:
Mobile:
Please,
login
or get
registered
to contact
the Author via email or personal message!
Related to Copper Cathodes and Copper Millberry Supplier