Copper powder 99,999%
Copper powder 99,999%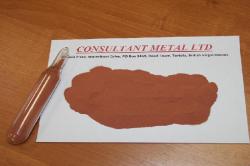 The company realizes PMU (powder copper ultrafine). Chemical purity of PMU, in accordance with Giredmet and IGAS certificates, is not less than 99,999 %, ICu 65-30, 91 ±0,05 %, Cu 63-69,09 ±0,05 %. Powder is stabilized in inert gas Argon.
Powder structure is not laminated. Shape of the particles is spheric.
Package: PET jar of 2 kg. Packaging of 200 g sealed vials is also available
Product quality is certified by Giredmet, IGAS GmbH.
There is also available manufacturing of PMU with the average size of the particles of 1.5 mkm.
The payment is to be effected on actual basis.
Procedure of business transaction:
Advantages of cooperation with our company:
Absence of any dealers
We guarantee originality and quality of the product
The lowest price
Efficient scheme of logistic structure and payment
Individual approach
Available delivery of goods on the basis of deferred payment against security of immovable property
Tags:
Copper powder 99,999%
Views: 3747 Added: 14-04-2011 Updated: 14-04-2011
---
Country: Russian Federation
City: Chelyabinsk
Zip: 454019
Company:
Address:
Contact person:
Phone:
Fax:
Mobile:
Please,
login
or get
registered
to contact
the Author via email or personal message!
Related to Copper powder 99,999%