Copper powder isotope
Copper powder isotope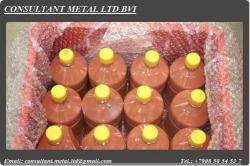 Copper Powder Manufacturing Company is manufacturer and seller of PMU (Ultra dispersed Copper Powder). As certified by Giredmet and IGAS, the chemical purity is: for PMU no less than 99.999%, for ICu65-30.91 0.05% and for Cu63-69.09 0.05%. Powder is stabilized in inert gas Argon.
Powder structure is not laminated. Particles are of spherical shape.
The Product is packed into 2 kg sealed PET containers, 20 pcs in each box..
Box net weight: 40 kg.
The company produces new consignments of the product and has them certified on a monthly basis. We ensure to deliver you only newly-produced high-quality goods.
You can benefit from working with our company by:
Direct transactions without any agency
Guarantee for originality and quality of the product
The lowest price offered by the manufacturer
Efficient scheme of logistic and fair pricing
Customer-related approach
We accept settlement payments and delivery on the basis of deferred payment against security of immovable property, vehicles (including commercial transport), different equipment and machinery.
Disclaimer. Most of the certificates and supporting documents advertised elsewhere on the Internet in the name of and issued by our company may be used illegally by some agents and dealers.
Tags:
Copper powder isotope
Views: 4005 Added: 11-10-2011 Updated: 25-01-2012
---
Country: Russian Federation
City: Chelyabinsk
Zip: 454019
Company:
Address:
Contact person:
Phone:
Fax:
Mobile:
Please,
login
or get
registered
to contact
the Author via email or personal message!
Related to Copper powder isotope