Copper Wire Scrap, different diameter
Copper Wire Scrap, different diameter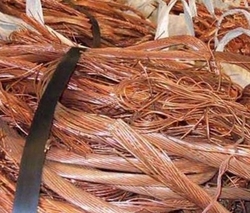 We are in a position to supply Copper Wire Scrap at $: 4200 PER MT CIF .
COMMODITY NAME: Copper Wire Scrap (MILLBERRY)
Price: US$:4200 PER MT CIF ASWP
Diameter of Wire: 0.20 0.25 0.30
Trial Quantity:100 MT
TOTAL QUANTITY: 200 METRIC TONS (12 MONTHS)
Performance Bond: 2%
Payment Terms: Transferable LC at Loading Port.
Tags:
Copper Wire Scrap, different diameter
Views: 62 Added: 04-11-2019 Updated: 04-11-2019
---
Country: Pakistan
City: Rawalpindi
Zip: 46000
Company:
Address:
Contact person:
Phone:
Fax:
Mobile:
Please,
login
or get
registered
to contact
the Author via email or personal message!
Related to Copper Wire Scrap, different diameter