Copper wire scrap (millberry) 99.99% 8,000 mt for sale on CIF
Copper wire scrap (millberry) 99.99% 8,000 mt for sale on CIF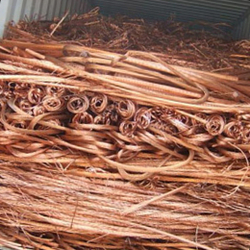 Millberry copper wire scrap 99.99% for sale:

Copper wire scrap, (Millberry) 99.99%

Country of origin: South Africa/Zambia/DRC
Loading
Loading will be done in SOUTH AFRICA within 7 working days of receipt of the confirmation proof of payment of 100% operative, transferable and irrevocable LC. The seller will advise client when the loading starts and is concluded
Price: $4,300 /MT CIF prices ASWP
Quantit: 8000/MT per Contract. Yearly Contract with Rolls & Extensions
Delivery time
Delivery will be done within 18 days to China Ports after receiving proof of swift of 100% operative, transferable and irrevocable LC payment.
Terms of payment:
100% operative, transferable and irrevocable Letter of credit (LC)
Total contract:
8,000 mt per month x 12 with rolls and extensions

Pproduct specifications
Copper wire scrap, (Millberry) 99.99% @ purity of 99.98% min and 99.99% max
Copper: 99.9%
Carbon: 0.03%
Coblet: <0.001
Iron: 0.005%
Phosphorus: <0.01%
Sulfur: <0.01%
Zinc: 0.003%
Copper wire scrap:
Wire diameter: 0.20mm, 0.25mm, 0.30mm
Weight: 3kg, 5kg, 7kg, 15kg, 20kg
Purity: 99.9% min
Packaging Details: 50kg per bale, 1000kg per bundle ,or Customer Specific Requirements. Tensile strength: 1000 N/mm2, 900 N/mm2, 500 N/mm2, 450 N/mm2, N/mm2
Inspection: SGS (Société Générale de Surveillance) before loading to make sure quality is the same as stated in this contract and buyer pays an upfront fees of $6900 USD for the above quantity(8000tons) to secure this analysis and in order to provide POP (proof of product) to buyer and this money is refundable immediately, should the specifications from SGS not be the same as outlined in this contract, and deductible if satisfactory.
Tags:
Copper wire scrap (millberry) 99.99% 8,000 mt for sale on CIF
Views: 130 Added: 22-04-2019 Updated: 22-04-2019
---
Country: United States
City: Sunrise
Zip: 33323
Company:
Address:
Contact person:
Phone:
Fax:
Mobile:
Please,
login
or get
registered
to contact
the Author via email or personal message!
Related to Copper wire scrap (millberry) 99.99% 8,000 mt for sale on CIF