Copper Wire Scrap
Copper Wire Scrap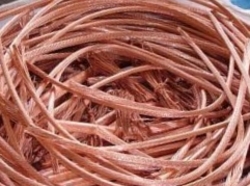 We have copper wire scrap in Large quantity we are ready and able to supply 2000Mt a month and more. our copper wire scrap is 99.99.8 pure. quality brass wire

Wire diameter: 0.30mm, 0.25mm, 0.20mm
Weight/ spool: 3 kg, 5 kg, 7 kg, 15 kg, 20kg
Tensile strength: 1000 N/ mm2, 900 N/ mm2, 500 N/ mm2, 450 N/ mm2, N/ mm2
Packing: shrink wrapped+ carton+ pallet to resist moisture, quake, and corrosion.

Application: used on low speed wire cutting machines like Agie- charmilles, Sodick, Mitsubishi and Makino.

Usage:
Electrical, light industry, machinery, building industry, national defense
industry

Copper Scrap is industry a important sources of the raw materials All kinds of
can be recycled Recycling waste production with copper

specification:
Copper WIRE SCRAP, ( Millberry) 99.78% at a purity of 99.78% min. 99.78% Max.
COPPER: 99, 9%

CARBON: 0.03%
COBLET: <0, 001
IRON: 0, 005%
PHOSPHORUS: <0, 01%
SULPHUR: <0, 01%
ZINC: 0, 003%

we offer the best copper wire at a very affordable price. copper wire scrap are ready for shipment, contact us with your order and we shall deliver your copper.
Tags:
Copper Wire Scrap
Views: 31 Added: 12-09-2019 Updated: 12-09-2019
---
Country: Tanzania
City: Dar es Salaam
Zip: 00255
Company:
Address:
Contact person:
Phone:
Fax:
Mobile:
Please,
login
or get
registered
to contact
the Author via email or personal message!
Related to Copper Wire Scrap