Ferroalloys Conference 2018, Orlando, FL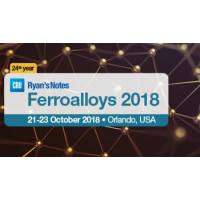 Ferroalloys Conference 2018, Orlando, FL
London, Chancery House, 53-64 Chancery Lane, London WC2A 1QS, United Kingdom, WC2A 1QS
Taking place 21-23 October 2018 at The Hyatt Regency Grand Cypress, Orlando, FL, the 24th CRU Ryan's Notes Ferroalloys Conference is the most important and largest annual gathering of ferroalloy professionals in the US.

"The CRU conference has proven to be one of the best networking opportunity for alloys. It is very convenient to be able to meet most of our suppliers, and their competitors in one place."
— Pierre Charbonneau, Materials and Procurement Supervisor, Ivaco Rolling Mills

More than 510 delegates, from 315 companies in 34 countries have already booked their places (correct as at August 29, 2018)
Now in its 24th year, the event regularly attracts 600+ producers, traders and consumers from 400+ companies, from 37 countries, operating across a wide range of bulk ferroalloys, minor metals and powder product markets. CRU Ryan's Notes Ferroalloys conference is recognized as the 'must-attend' event for doing business in the North American ferroalloys industry.
Previous conference video:

The conference has a trusted track-record for delivering delegates from across the full supply chain and facilitating intensive deal-making on a scale that's second to none.

And, as the event takes place at a pivotal point in the calendar, finalizing your negotiations for the year ahead here could save you weeks on the road and all the associated travel and hotel costs.

Perfectly blending formal and relaxed networking opportunities, the conference features 50+ private meeting rooms; two evening receptions; a full complement of networking lunches/breaks; plus a social program including the annual golf tournament, tennis tournament, and excursions.

Why CRU Ryan's Notes Ferroalloys conference is the right choice for you
It's the #1 networking event in the US for the ferroalloys industry
Established for more than 20 years, the event regularly attracts 600+ industry leaders
As a delegate, you'll receive the full delegate list with contact details prior to the event, so you can set up meetings in advance and maximise your time
Whether buying or selling, no other event comes close to matching the business opportunities
Delegates at the conference represent all of the main interests in the ferroalloys space. The event attracts a significant proportion of delegates who are consumers from steel mills, aluminium smelters, foundries, chemical companies, power companies, aviation companies and many more. Serving the diverse needs of this large group, producer and traders at the conference are active in the production and sales of over 30 distinct product types from bulk and noble alloys, to minor metals and beyond.

Six great reasons to attend
600+ delegates representing 400+ companies, from 37+ countries
A trusted track-record in attracting the full North American supply chain
50 rooms for private meetings
Fantastic networking opportunities
Hear from industry thought-leaders
The most valuable three days out of the office you'll spend this year
Event Web-site:
Views: 270 Added: 31-08-2018 Updated: 31-08-2018
---
Organizer:

CRU
Ferroalloys Conference 2018, Orlando, FL
Address:
Chancery House, 53-64 Chancery Lane, London WC2A 1QS, United Kingdom
London
Zip:
WC2A 1QS
Contact person: Hayley Ward
Phone: +44 20 7903 2410
Phone2: +44 20 7903 2236
Fax: +44 20 7903 2432
When having questions on Ferroalloys Conference 2018, Orlando, FL, please send your inquury!
Ferroalloys Conference 2018, Orlando, FL United Kingdom
Ferroalloys Conference 2018, Orlando, FL
Tags:
Ferroalloys Conference 2018, Orlando, FL