HMS 1 & 2 20,000 mt per month CIF
HMS 1 & 2 20,000 mt per month CIF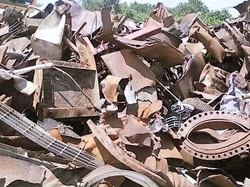 COMMODITY : Heavy Melting Steel Scraps (HMS) 1&2, (Ratio- 80%/20%)
ORIGIN : Ghana
QUANTITY : 20,000 MT * 12 Months
SHIPPING TERMS : CIF
PRICE : 280$ Per MT
DESTINATION PORTS : India
PERFORMANCE BOND : 2%
PACKING : 20' FCL CONTEINER
PAYMENT TERM : 100% L/C At sight at Port of Discharge, after SGS & Inspection
PROCEDURES:
Buyer issue LOI (Letter of Intent) to the Seller.
Seller issue FCO (Full Corporate Offer) to the Buyer.
Buyer issues Signed FCO and ICPO (Irrevocable Corporate Purchase Order) with buyer banking details to the seller.
Seller and Buyer Makes a Draft SPA (Sales & Purchase Agreement).
Seller submits POP (Suitable Proof of Products) to the Buyer by sending the storage Yard photos, showing photographic date by a News Paper, SGS reports etc.
Buyer visits the production plant to have a face to face meeting, if it is required at Buyer's cost. Seller will provide the Invitation.
Buyer opens the L/C.
Seller arranges 2% of PB (Performance Bond).
Buyer release the L/C to be Operative L/C against Seller's PB.
UNQUOTE.
In order to get the stamped FCO, I require a fresh, current dated LOI from the buyer – addressed to: end seller, through sei / pravin law (pkm fze).
Tags:
HMS 1 & 2 20,000 mt per month CIF
Views: 55 Added: 21-05-2019 Updated: 21-05-2019
---
Country: Egypt
City: Alexandria
Company:
Address:
Contact person:
Phone:
Fax:
Mobile:
Please,
login
or get
registered
to contact
the Author via email or personal message!
Related to HMS 1 & 2 20,000 mt per month CIF