Looking for Copper Cathode 50,000 mt first, 100,000 mt/m further on
Looking for Copper Cathode 50,000 mt first, 100,000 mt/m further on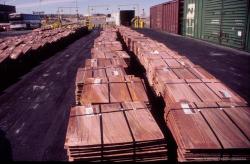 We are looking for 50,000 mt of Copper cathodes at $3500/ mt, the buyer will arrange collection from Rotterdam Steinweg warehouse. The buyer will pay TT 100%.
During the Second month we need 100,000 mt for twelve months. Please advise if you can supply.
Tags:
Looking for Copper Cathode 50,000 mt first, 100,000 mt/m further on
Views: 212 Added: 23-04-2019 Updated: 23-04-2019
---
Country: United Kingdom
City: London
Zip: P013OQJ
Company:
Address:
Contact person:
Phone:
Fax:
Mobile:
Please,
login
or get
registered
to contact
the Author via email or personal message!
Related to Looking for Copper Cathode 50,000 mt first, 100,000 mt/m further on