Looking for copper cathodes 5,000 mt/m FOB
Looking for copper cathodes 5,000 mt/m FOB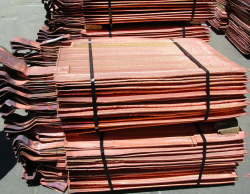 We seek Copper Cathode as per attached photo.
My client is ready for 5000MT/Month x 12 months (or whatever available)
Target price = 4600 $/MT (FOB)
Payment after inspection at bounded warehouse.
If you agree, We are urgent and can proceed now.
No advance payment whatsoever.
This is a VIP client, scammer should not get involved in such deal.
Money is ready if you have the goods with the required specification.
We are direct with the buyer.
Kindly confirm the specifications and price.
Tags:
Looking for copper cathodes 5,000 mt/m FOB
Views: 42 Added: 21-05-2019 Updated: 21-05-2019
---
Country: Egypt
City: Cairo
Company:
Address:
Contact person:
Phone:
Fax:
Mobile:
Please,
login
or get
registered
to contact
the Author via email or personal message!
Related to Looking for copper cathodes 5,000 mt/m FOB