Mining in Europe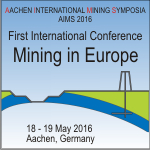 The key objective of the 1st International Conference on Mining in Europe is to share the latest developments on mining activities, developments and research in Europe. The global mining community faces significant challenges, ranging from technological to social, environmental and economic issues. The European mining community has confronted and solved such challenges over centuries and has thereby delivered important contributions to the use and development of our mineral resources.
We invite people from academic institutions, government agencies, equipment suppliers, software providers, professionals from the mining industry and practitioners from consulting companies. The Conference will feature invited keynote speakers, exhibitions by industry and key subtheme sessions with oral and poster presentations drawn from submitted abstracts. An additional objective of this Conference is to encourage students to showcase their research to support the next generation of mining professionals.
Topics
Mine planning
Mining technologies
Resource and ore deposit efficiencies
Critical raw materials
Mine water
Mine closure and post-mining land use
Other topics
Please visit our website for detailed descriptions.
Authors are invited to submit abstracts (up to 300 words) for possible inclusion as poster or oral presentation in the Conference program. Abstracts are to be submitted electronically via the Conference portal until 1 March 2016.
We look forward to welcoming you to this unique Conference.
Event Web-site:
Views: 900 Added: 22-11-2015 Updated: 03-12-2015
---
Organizer:

Institute of Mineral Resources Engineering
Mining in Europe
Address:
Wuellnerstrasse
Aachen
Contact person: Mrs. Sandra Zimmermann
Phone: 492418095673
When having questions on Mining in Europe, please send your inquury!
Mining in Europe Germany
Mining in Europe
Tags:
Mining in Europe