Quebec 20 Billion ton Iron ore deposit for option
Quebec 20 Billion ton Iron ore deposit for option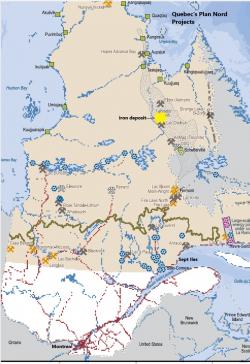 60% ownership of Quebec's largest iron deposit (29% low impurities) was sold to Wuhnan steel in 2012. More than $150 million has been spent on the purchase, exploration and the 2015 NI 43-101 compliant feasibility study.
In 2017 Baosteel merged with WISCO and this year it deems the "Lac Otelnuk iron deposit" as a non core asset.
The original Otelnuk iron deposit claims may revert to our firm (original claim owner) and become available for option in late 2019. The deposit covers over all of the 129 claims plus 50% interest in the claims within the area of common interest.

Each of the original 129 claims has a 6 figure excess expenditures registered and available to be applied against the future annual expenditure commitments to the Quebec ministry of Natural Resources, allowing the optionee on average 20 years of no expenditure requirements.
Please note the Quebec government will provide support for the economic development of northern Quebec as part of the 'Plan Nord' economic strategy. More data is found by searching "Quebec plan nord".

The exploration camp is fully equipped and is on care and maintenance but will be dismantled by the title transfer date if no one is interested. Image search"otelnuk" to view photos.
Please note the claims will revert to my firm in late 2019 and only expressions of interest can be accepted at this time.
Tags:
Quebec 20 Billion ton Iron ore deposit for option
Views: 92 Added: 10-07-2019 Updated: 10-08-2019
---
Country: Canada
City: Toronto
Zip: m4v1c2
Company:
Address:
Contact person:
Phone:
Fax:
Mobile:
Please,
login
or get
registered
to contact
the Author via email or personal message!
Related to Quebec 20 Billion ton Iron ore deposit for option