ROZDRABNIACZ DO METALI, SHREDER - UNTHA RS100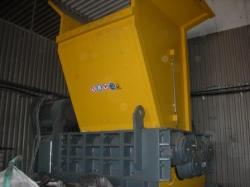 Oferujemy maszynę do rozdrabniania każdego rodzaju Surowców: UNTHA RS100
Rok Produkcji Maszyny: 2013 r..
Została zmontowana, uruchomiona, ma przepracowane 27,5 MTG.
Maszynę sprzedajemy z powodu zmiany Profilu działalności FIRMY.
Cena Rynkowa takiej Maszyny wynosi obecnie na poziomie 260 tysięcy euro netto plusa transportu, a czas kurs oczekiwania na wyprodukowanie wynosi okolo 4 miesiecy.
Cena Sprzedaży: 210.000 euro netto .
Maszyna żart gotowa do odbioru od zaraz.
Tags:
ROZDRABNIACZ DO METALI, SHREDER - UNTHA RS100
Views: 1165 Added: 31-05-2014 Updated: 31-05-2014
---
Country: Poland
City: Pruszków
Company:
Address:
Contact person:
Phone:
Fax:
Mobile:
Please,
login
or get
registered
to contact
the Author via email or personal message!
Related to ROZDRABNIACZ DO METALI, SHREDER - UNTHA RS100