Screw Machine Parts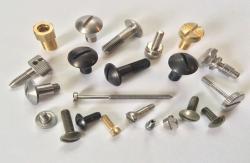 We are a custom screw machine products manufacturer for over 55 years. We specialize in single- and multi-spindle screw machining, CNC milling and turning and Swiss screw machining. We work in brass, stainless steel, aluminum, steel, Delrin and nylon. Our products include screws, fasteners, bolts, couplings, fittings, inserts, bushings, flanges, shafts, washers, nuts, rivets, stamping and assemblies. Small quantities to millions. RoHS compliant. We serve the military, medical, electronic, telecommunication, automotive and commercial industries.
Products:
1. Screws
2. Bolts
3. Couplings
4. Fitting
5. Bushings
6. Shafts
7. Nuts
8. Washers
9. Inserts
Tags:
Screw Machine Parts
Views: 90 Added: 08-05-2018 Updated: 08-05-2018
---
Country: United States
City: Mineola
Zip: 11501
Company:
Address:
Contact person:
Phone:
Fax:
Mobile:
Please,
login
or get
registered
to contact
the Author via email or personal message!
Related to Screw Machine Parts