SELL COPPER WIRE SCRAP 99.9% 4180$/ton L/C
SELL COPPER WIRE SCRAP 99.9% 4180$/ton L/C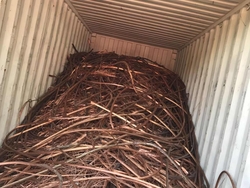 Our company is a supplier of copper wire scrap 99.9%, in the form of a cable without winding (copper wire scrap). We can supply cooper wire scrap up to 400 tons per month
Price for 4/11/19 4180$/ton with delivery to the address you need. Price depends on the required quantity. We can provide the best price. You can visit us and sign a contract, and control all loading and sending processes.
Payment term L/C. It will be possible to discuss more detail. Delivery time nearly 30 days after signing a contract. If you are interested in the offer, contact.
Tags:
SELL COPPER WIRE SCRAP 99.9% 4180$/ton L/C
Views: 61 Added: 04-11-2019 Updated: 04-11-2019
---
Country: Ukraine
City: Odessa
Zip: 49000
Company:
Address:
Contact person:
Phone:
Fax:
Mobile:
Please,
login
or get
registered
to contact
the Author via email or personal message!
Related to SELL COPPER WIRE SCRAP 99.9% 4180$/ton L/C