TITANIUM USA 2019, Mobile, Alabama, USA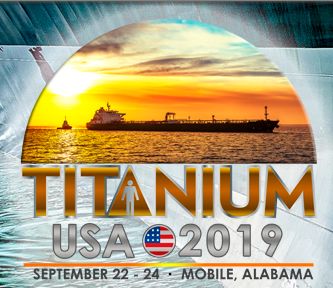 TITANIUM USA 2019, Mobile, Alabama, USA
Orlando, 1 S Water Street, Mobile, Alabama, 36602
TITANIUM USA 2019 Expo will be held September 22-24th at the Mobile Convention Center in Alabama. Exhibit space is available on a "first-come, first-serve" basis so we encourage you to register for a booth today!
Over the past decade, attendance at the TITANIUM Conference has doubled, drawing delegates from more than 30 countries over the past few years. This growth has occurred as the supply chain for many industries has become more active.
Many managers from prime contractors as well as sub-tier suppliers are coming as they recognize the efficiency of attending a meeting such as TITANIUM. Because there are producers, distributors and fabricators from all parts of the world across several consuming market segments at the conference, it is a very cost effective means for the delegates to meet with a wide variety of customers and vendors in a single trip. At the same time, the TITANIUM Conference offers the only opportunity to hear from leading industry executives and attend panel discussions on market topics that affect each industry segment, all in one place.

We look forward to seeing you in September 2019!
Event Web-site:
Views: 211 Added: 28-11-2018 Updated: 28-11-2018
---
Organizer:

Frank Perryman
TITANIUM USA 2019, Mobile, Alabama, USA
Address:
1 S Water Street, Mobile, Alabama
Orlando
Zip:
36602
Contact person: Frank Perryman
Phone: +1303/404-2221
Fax: +1303/404-9111
When having questions on TITANIUM USA 2019, Mobile, Alabama, USA, please send your inquury!
TITANIUM USA 2019, Mobile, Alabama, USA United States
TITANIUM USA 2019, Mobile, Alabama, USA
Tags:
TITANIUM USA 2019, Mobile, Alabama, USA