Used iron scrap metal for sale
Used iron scrap metal for sale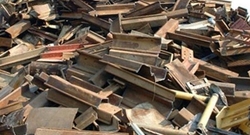 We operate a scrap metal trading division where quality grades of brass, bronze and copper scrap are for sale. Whether you need a ton or a trailer load, our segregated brass, bronze, cupro-nickel and copper scrap metal packages are processed and packaged to exact customer specifications for foundries, brass mills, copper mills and specialty consumers.
Our experienced 24/7 technical support, rapid ontime delivery and export to anywhere in the world has given us the reputation as a reliable supplier of scrap metal packages. Customers can rely on our marketing expertise to arrange for your brokering needs as well.
Scrap Metals For Sale:
• Brass
• Bronze
• Cupro-nickel
• Copper
Scrap Metal prices fluctuate on a daily basis with the world's stock market. As a result we carefully monitor these markets to ensure our customers receive the highest possible value for their metals.
For current prices or more information about our scrap metal trading process do contact us via email directly.
Tags:
Used iron scrap metal for sale
Views: 146 Added: 18-01-2019 Updated: 18-01-2019
---
Country: United States
City: California
Zip: 95340
Company:
Address:
Contact person:
Phone:
Fax:
Mobile:
Please,
login
or get
registered
to contact
the Author via email or personal message!
Related to Used iron scrap metal for sale